Ethernet Switch Producers and Ethernet Switch Market Trend
Date : 2022-05-10
Reading : 339
Ethernet switches are switches that transmit data based on Ethernet, a local area network in which Ethernet uses a shared bus-type transmission media method. Ethernet switches are structured so that each port is directly connected to the host and generally operate in full duplex. The switch can connect many pairs of ports simultaneously, allowing each pair of hosts communicating with each other to transfer data without conflict as if they were the exclusive communication medium.
The global Ethernet switch market size was USD 26.8 billion in 2017, growing to USD 31.6 billion in 2022, with a CAGR of 3.3% from 2022 to 2027. With the rapid development of 5G edge-side Telematics, AR/VR, and mobile medical, the global Ethernet switch market is expected to grow to USD 37.7 billion in 2027, with a CAGR of 3.6% from 2022 to 2027.
Figure 2017-2027 Global Ethernet Switch Market Size (Billion USD) and CAGR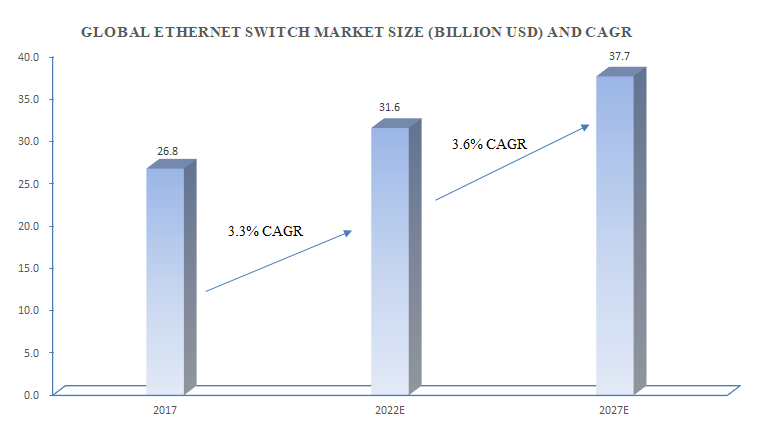 Global Ethernet switch vendors include Cisco, Huawei, Arista Networks, H3C, HPE and Juniper. Among them, Cisco holds about 46% of the market share. This is followed by Huawei and Arista Networks with 10.9% and 7.4% market share respectively.