Power Tools Market and Trend
Date : 2022-05-11
Reading : 399
A power tool is a tool that is driven by an additional power source and mechanism. The most common power tool uses electric motors. Internal combustion engines and compressed air are also used. Other power sources include steam engines, direct combustion of fuel and propellant (e.g. in powder-driven tools), and natural power sources (e.g. wind or flowing water). The common power tools are electric drill, electric hammer, electric impact drill, electric chainsaw, electric planer, electric grinder, cutting machine, electric sander, polisher, etc.
The global power tools market size was USD 30.6 billion in 2017, growing to USD 32.9 billion in 2022, with a CAGR of 1.5% from 2017 to 2022. The global power tools market size is expected to grow to USD 39.2 billion in 2027, with a CAGR of 3.6% from 2022 to 2027.
Figure 2017-2027 Global Power Tools Market Size (Billion USD) and CAGR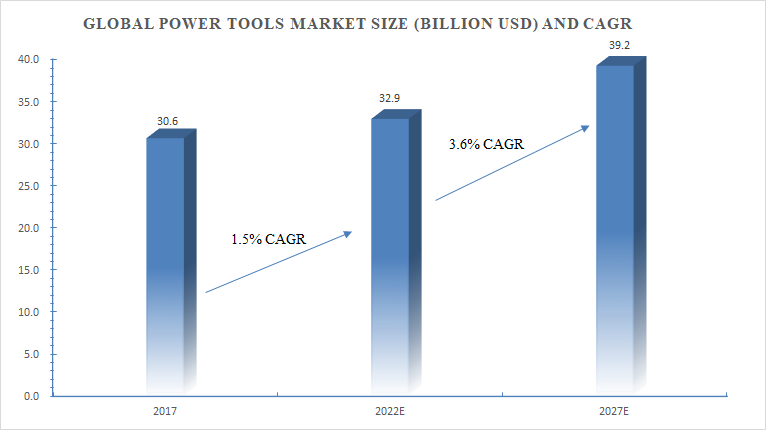 Power tools are mainly used in the field of construction, with a market share of 16.1% in commercial construction, 14.2% in industrial construction, 8.9% in renovation and engineering, 8.3% in residential construction, and 2.9% in mechanical construction. The development of the global construction industry has a significant impact on the power tool industry.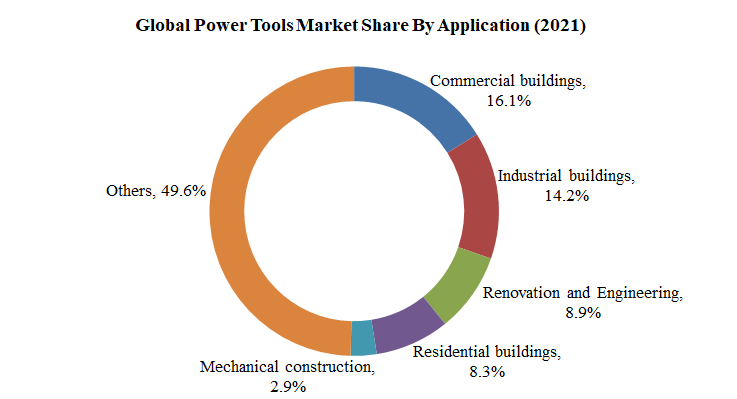 Asia-Pacific is the largest market for power tools with a market share of 33.7%. This is followed by Europe and North America, with market shares of 30.1% and 26.3%, respectively.