Carbon Nanotubes (CNT) Producers and CNT Market Trend
Date : 2022-05-12
Reading : 378
Carbon nanotubes (CNT) are a one-dimensional quantum material with a special structure.
Carbon nanotubes are mainly composed of carbon atoms arranged in a hexagonal shape to form coaxial circular tubes with several to tens of layers, with a fixed distance of about 0.34 nm between the layers and a general diameter of 2~20 nm.
Carbon nanotubes are used in electronics and semiconductors, energy storage, chemical materials and polymers, medical, structural composites, and other applications.
Carbon nanotubes can be classified by type into single-walled carbon nanotubes (SWCNT) and multi-walled carbon nanotubes (MWCNT). MWCNT is the most important commercial product and accounts for about 90% market share of CNT.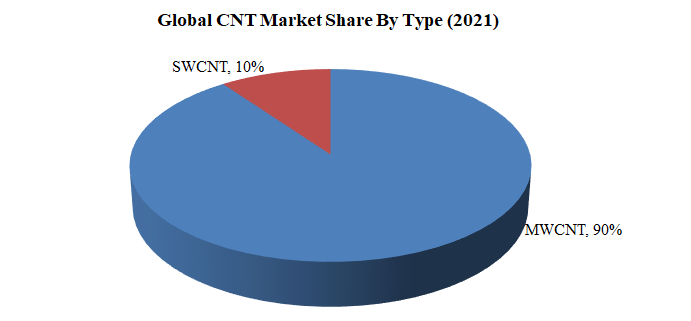 The global carbon nanotube market size was USD 3.6 billion in 2017, growing to USD 7.9 billion in 2022, with a CAGR of 17.0% from 2017 to 2022. With the continuous development of new energy vehicle power battery, electronics, semiconductor, medical, materials and other industries, the global demand for carbon nanotubes will grow rapidly. The global market for carbon nanotubes is expected to reach USD 16.5 billion in 2027, with a CAGR of 15.9% from 2022 to 2027.
Figure 2017-2027 Global CNT Market Size (Billion USD) and CAGR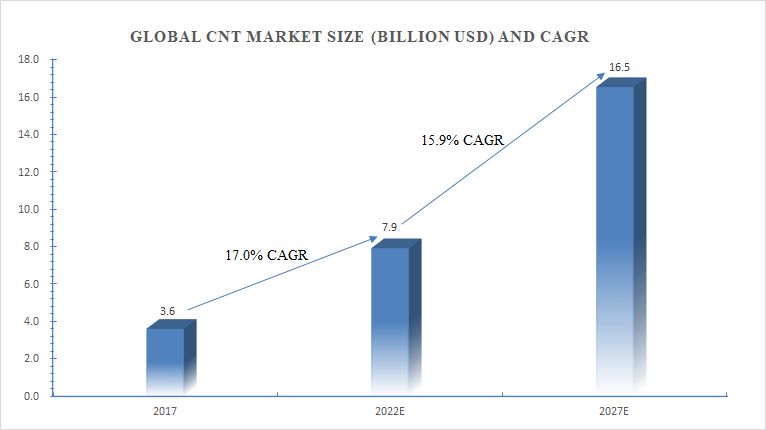 The key players in the global carbon nanotube market are Showa Denko, Arkema, Nanocyl, Jiangsu Cnano, LG Chem, Hyperion Catalysis, Timesnano, OCSiAl, Qingdao Haoxin, Kumho Petrochemical and Hanwha Chemical.