Industrial Computer Producers and Industrial Computer Market Trend
Date : 2022-05-13
Reading : 447
Industrial computers are industrial control computers designed for industrial use. Their basic performance and compatibility are similar to that of commercial computers, but industrial computers focus more on stability in different environments and provide the best solution for human-machine interface and production process control.
The global industrial computer market size was USD 3.53 billion in 2017 and will grow to USD 4.78 billion by 2022, with a CAGR of 6.3% from 2017 to 2022. Driven by widespread use of the Industrial Internet of Things (IIoT), the global industrial computer market is expected to grow to USD 5.96 billion in 2027, with a CAGR of 4.5% from 2022 to 2027.
Figure 2017-2027 Global Industrial Computer Market Size (Billion USD) and CAGR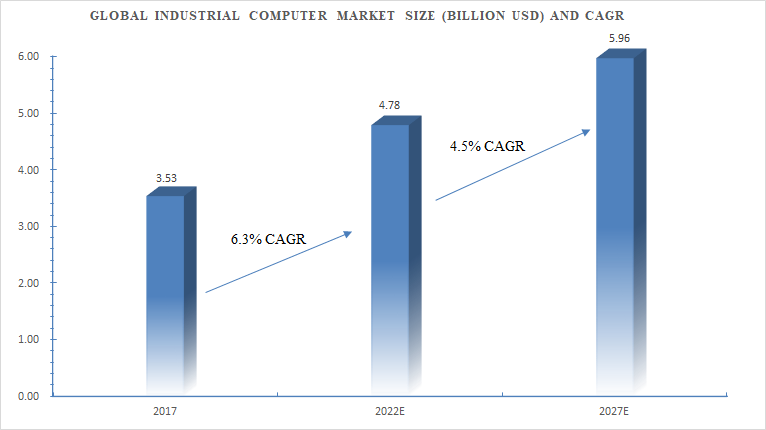 Global industrial
computers
participants include Advantech, Siemens, Beckhoff, IEI Technology, Kontron, B & R Automation, Nexcom International, Avalue, DFI and Portwell. Advantech is the largest market player with 34.6% market share.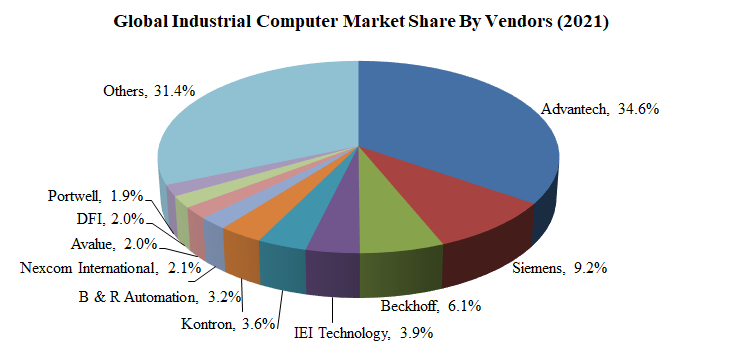 Industrial computers are mainly used in industrial (51.3%), transportation and infrastructure(16.2%), medicine (10.5%), communication electronics (5.1%), automated building and video security (3.1%).