Spandex Producers and Spandex Market Trend
Date : 2022-05-17
Reading : 360
Spandex, scientifically known as polyurethane fiber, is a chemical synthetic fiber with excellent properties such as high productivity, low modulus of elasticity and good fatigue resistance. Adding a small amount of spandex (generally 5%-25%) to chemical fiber products can significantly improve the elasticity and comfort of chemical fiber products, so it is known as the "MSG" fiber, and its price is much higher than other varieties of synthetic fibers. There are four main production processes for spandex: solution dry, solution wet, chemical reaction, and melt spinning.
The global spandex market size was 912,000 tons in 2017, growing to 1,186,000 tons in 2022, with a CAGR of 5.4% from 2017 to 2022. As the production of spandex increases and the price decreases, favorable conditions are created for the popularity of spandex, which is expected to further stimulate market demand. The global spandex market size is expected to grow to 1,485,000 tons in 2027, with a CAGR of 4.6% from 2022 to 2027.
Figure 2017-2027 Global Spandex Market Size (1,000 Tons) and CAGR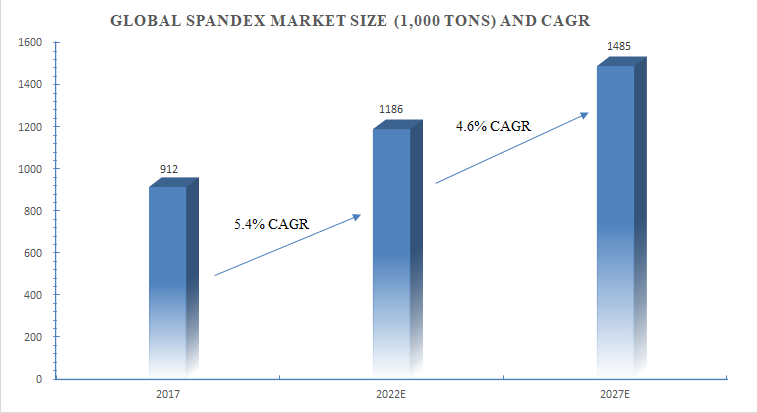 Major global spandex players are Hyosung, Invista, Zhejiang Huafon, ZheJiang Huahai, Taekwang, Asahi Kasei, Xinxiang Bailu, Yantai Tayho, Fujian Highsun, Hangzhou Banglian, Jiangsu Uoli, Toray and Indorama Industries Limited (IIL).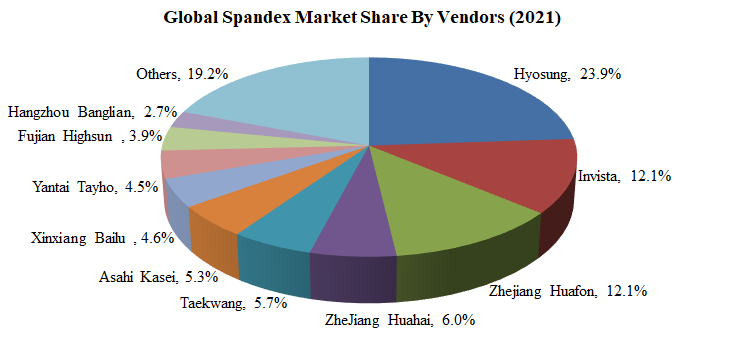 Spandex downstream demand is mainly from the textile and apparel category, which can be used in all garments that can be stretched to meet comfort requirements, with more than 50% of textiles and garments worldwide containing spandex components. Spandex is divided into three main applications: Apparel & Accessories (76.3%), Household Textiles (14.4%), and Industrial Textiles (8.2%).