Alpha Cypermethrin Market Trend and Alpha Cypermethrin Producers
Date : 2022-05-18
Reading : 382
Alpha Cypermethrin is a synthetic pyrethroid broad-spectrum insecticide that is registered for use on soybeans, corn, vegetables, sugar beets, wheat, alfalfa and other minor crops. The usually formulation of alpha cypermethrin includes WP, SC, EC, EW and SC.
The global alpha cypermethrin market size was $170 million in 2017 and will grow to $320 million in 2022, with a CAGR of 13.5% from 2017 to 2022. The alpha cypermethrin market size is expected to grow to $390 million in 2027, with a CAGR of 4.0% from 2022 to 2027.
Figure 2017-2027 Global Alpha Cypermethrin Market Size (Million USD) and CAGR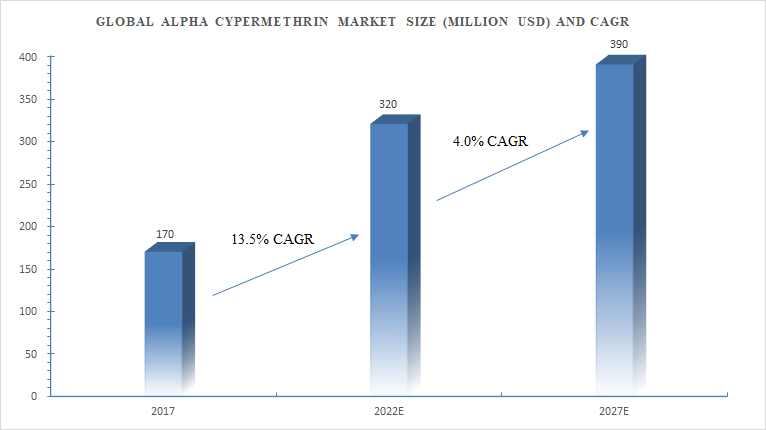 Tagros Chemicals India Limited, Hemani Industries Limited, Heranba Industries Ltd., BASF, Meghmani Organics, Bharat, Gharda Chemicals, Aestar, Yingde Greatchem, and Jiangsu Nongbo are global leading alpha cypermethrin producers. Alpha cypermethrin is wildly used in food, household, and other applications.