Machine Vision Producers and Machine Vision Market Trend
Date : 2022-06-23
Reading : 367
Machine vision refers to the use of machines instead of the human eye to do measurement and judgment. Machine vision as the "eyes" and visual "brain", is an important information input port in the entire intelligent manufacturing system. The machine vision system consists of four components: optical illumination and imaging, image acquisition, image processing and analysis, and information decision making and application execution. Machine vision has the features of fast detection speed, high recognition accuracy, long working time, easy integration of information, and adaptation to harsh environments.
The global machine vision market size was $8.1 billion in 2017, growing to $11.6 billion in 2022, with a CAGR of 7.4% from 2017 to 2022. The global machine vision market size is expected to grow to $14.5 billion in 2027, with a CAGR of 4.6% from 2022 to 2027.
Figure 2017-2027 Global Machine Vision Market Size (Billion USD) and CAGR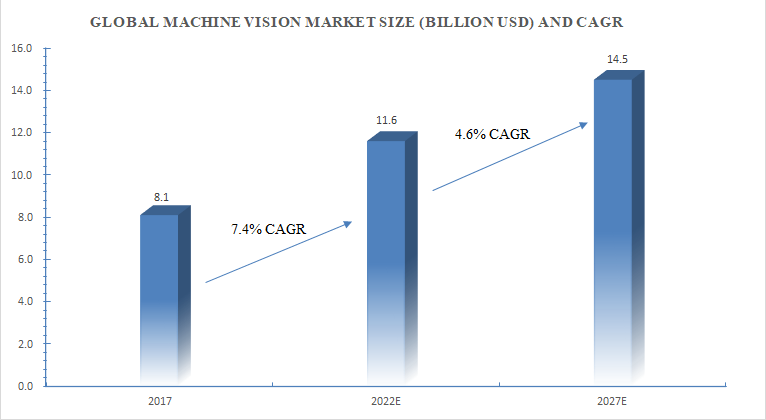 Major players in the machine vision industry are Isra Vision, Wintriss Engineering Corporation, Dr. Schenk GmbH, Suzhou TZTEK Technology Co., Wuhan Jingce Electronic Group Co., Jutze Intelligence Technology Co. and OPT Machine Vision Tech Co.
Machine vision is used in new energy battery, thin film, non-woven and sanitary material, paper and other fields.