Gene Sequencers Producers and Gene Sequencers Market Trend
Date : 2022-06-28
Reading : 384
Gene sequencer, an instrument for determining the base order, type and quantification of DNA fragments. The main applications are human genome sequencing, genetic diagnosis of human genetic diseases, infectious diseases and cancer, forensic paternity testing and individual identification, screening of bioengineered drugs, and hybrid breeding of plants and animals.
The global gene sequencer market size was USD 8.4 billion in 2017, growing to USD 22.5 billion in 2022, with a CAGR of 21.8% from 2017 to 2022. With the maturation of second-generation high-throughput sequencing technology and the rise of third-generation sequencing technology, gene sequencing technology can penetrate to a depth and breadth that is difficult to reach with traditional testing methods. The global gene sequencer market is expected to reach USD 41.7 billion in 2027, with a CAGR of 13.1% from 2022 to 2027.
Figure 2017-2027 Global Gene Sequencers Market Size (Billion USD) and CAGR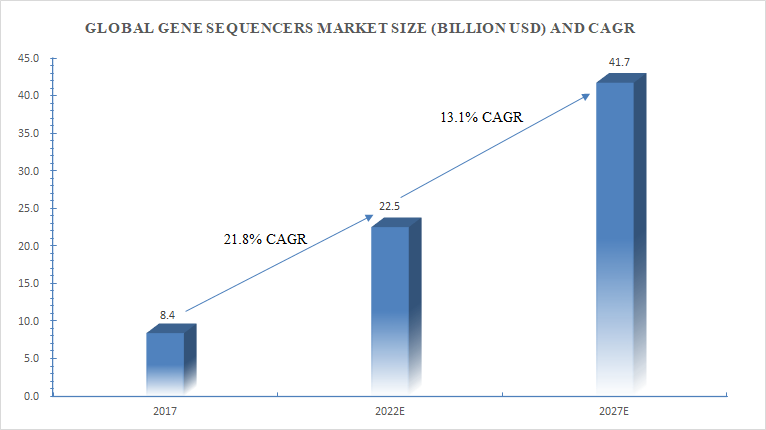 The technology barrier for gene sequencer is very high, so the market is highly concentrated. The top 3 vendors hold 96% market share. Illumina (58%), MGI Tech Co. (21%), and Thermo Fisher Scientific (17%).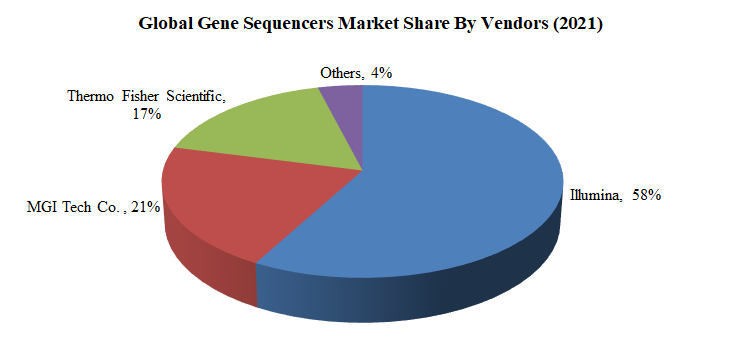 Gene sequencer is used in academic research, clinical research, hospital clinics, pharmaceutical and biotechnology applications.