Dimethyl Carbonate (DMC) Producers and DMC Market Trend
Date : 2022-07-28
Reading : 390
Dimethyl carbonate (DMC) is a chemical material with low toxicity, excellent environmental performance and wide application. It is insoluble in water, but can be miscible with almost all organic solvents such as alcohols, ethers and ketones. It has been classified as a non-toxic product in Europe since 1992, and is an environmentally friendly chemical material that meets modern "clean process" requirements. DMC can be widely used in organic synthesis reactions such as carbonylation, methylation, methoxylation and carbonyl methoxylation. Dimethyl carbonate is mainly available in 3 categories: industrial grade, medical grade and battery grade.
The global dimethyl carbonate market size was 0.63 million tons in 2017, growing to 1.07 million tons in 2022, with a CAGR of 11.2% from 2017 to 2022. The global dimethyl carbonate market size is expected to reach 1.56 million tons in 2027, with a CAGR of 7.8% from 2022 to 2027.
Figure 2017-2027 Global DMC Market Size (Million Tons) and CAGR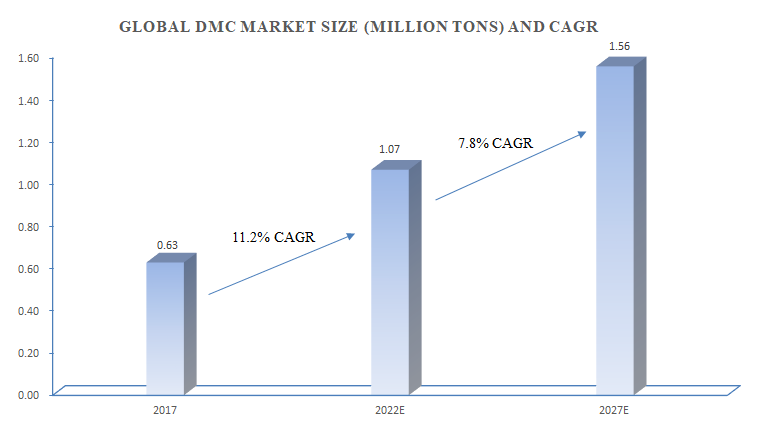 The world's leading supplier of dimethyl carbonate is Shandong Shida Shenghua (14.1%), Sabic (9.3%), Rakuten Group (8.9%), CHIMEI Corporation (6.8%) and Shandong Hi-tech Spring Material Technology Co. (5.0%).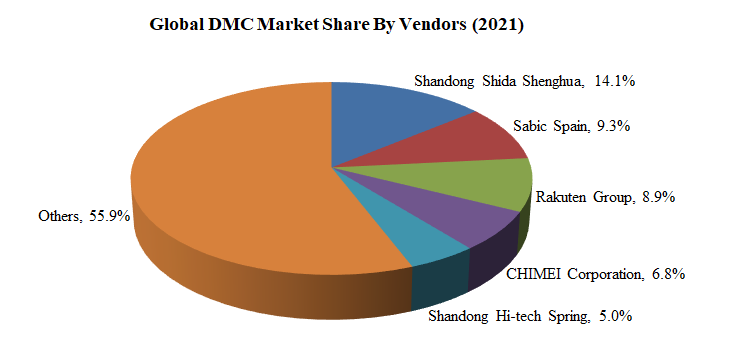 Electrolyte solvents and polycarbonates are the main application areas for dimethyl carbonate, with a market share of 32.3% and 32.1%, respectively. Other application markets include adhesives, developer and coatings.